NEWS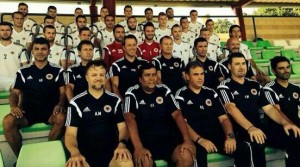 After the prestigious victory in the Fifa Ranking Portugal suffered a great leap forward, from 70° instead of the previous month, to 45° current place for Albanianational.Although the historical record of the team Black Red is the 37th place in June2013, always under the guidance of Gianni De Biasi. Now the challenges that await the team are very demanding, the 11 October to Elbasan (Albania) against Denmark and 14 October in Belgrade against Serbia.
Qualifiers Euro 2016 – Group I  Stadium Municipal de Aveiro PORTUGAL: Rui Patrício, João Pereira, Pepe, Ricardo Costa (Veloso 74 '), Fábio Coentrao André Gomes, William Carvalho (Ricardo Horta 56′), João Moutinho, Nani, Eder Vieirinha (Ivan Cavaleiro 46 '). Coach: Paulo Bento ALBANIA: E.Berisha, Agolli Bhikha, Cana, Hysaj, Kukeli (Kace 66 '), Roshi, Abrashi, T.Xhaka,(…)
PRESS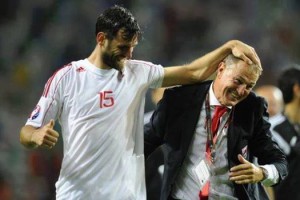 Sorry, this entry is only available in Italiano.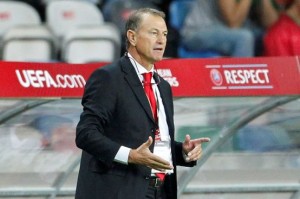 Sorry, this entry is only available in Italiano.
CARRIERA ALLENATORE
1992/93
1993/94
1994/95
1995/96
1996/97
1997/98
1998/99
Nov.1999
2000/01
2001/02
2002/03
2003/04
2004/05
2005/06
2006/07
Ott.2007
Apr.2008
2008/09
2009/2010
Dic.2011
2012/2013
2013/2014
Pro Vasto
Carpi
Carpi
Carpi
Cosenza
Spal
Spal
Modena
Modena
Modena
Modena
Brescia
Brescia
Torino
Torino
Levante
Torino
Torino
Udinese
Albania
Albania
Albania
C2
C1
C1
C1
B
C2
C1
C1
C1
B
A
A
A
B
A
Liga
A
A
A
Naz.
Naz.
Naz.
CARRIERA GIOCATORE
1974/75
1975/76
1976/77
ott.1976
1977/78
1978/79
1979/80
1980/81
1981/82
1982/83
1983/84
1984/85
1985/86
1986/87
1987/88
1988/89
1989/90
Treviso
Inter
Inter
Reggiana
Pescara
Brescia
Brescia
Brescia
Brescia
Brescia
Palermo
Palermo
Palermo
Vicenza
Treviso
Treviso
Bassano
CARTA D'IDENTITA'
nome:
cognome:
nato a:
il:
nazione:
professione:
squadra:
Giovanni
De Biasi
Sarmede (TV)
16-06-1956
Italy
Allenatore
Albania
FIFA World Ranking